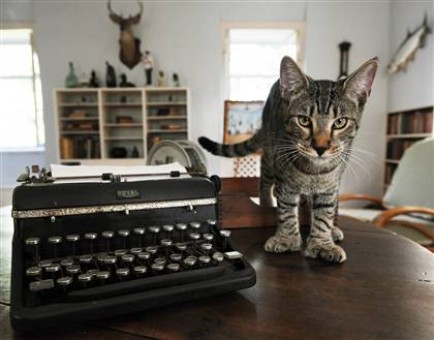 Like many male writers of my vintage, one of my literary heroes is Ernest Hemingway. Not just because I loved his stories and admired his prose but also because of the large, masculine way he lived his life. I liked the skiing and the sailing and the fishing and the boxing and the hunting and the bullfighting and the drinking and I even liked the fact that he shot himself when his end was inevitable.
Shortly after moving to Florida in the early 1980s to work as the editorial director of a fledgling publishing company, I took a three-day weekend to visit Hemingway's house in Key West. The house and gardens were lovely but it was his writing studio on top of a garage-like structure near the main house that wowed me.
A wrought iron, circular staircase leads you up to it, but Old Hem had a catwalk installed, too, between a porch on the second story and his bedroom in the main house. Inside the furnishings are simple. In the center of the room stands the round table, in wood, on which his typewriter stood. In the corner there is a recliner. In another corner stands an easel. On the walls are paintings, a mounted fish and deer head, and an old barometer. Around three walls a chest-high bookcase.
I spent a good half hour in that room during that first visit and have come back to study it many times. I'm not sure why I felt I needed to know it. Perhaps I had a subconscious belief that these preserved objects might contain secrets that would unlock my own literary genius. I imagined the old man sitting upright at his table and typing, bathed in the warm morning sun that came though the French doors and windows. Now and then he would get up to stroll around the room thinking or to fetch a book that contained some needed bit of information.
I knew from reading biographies of Hemingway that he spent some of the most productive mornings of his life in that writing studio. I imagined him, when his work was done, stepping out onto the porch and looking down at the cats in the garden. Then he would close up the studio, descend the spiral staircase, and walk up toward Duval Street to Sloppy Joe's, where he would spend his afternoons talking with friends and drinking.
I have since visited other rooms where other great writers wrote but Hemingway's second-floor studio has remained the model for what a writing studio should be – the single room, the French doors and windows, the paintings, the trophies, the bookshelves, and, just as important, the second-story vantage point of the gardens and the street he would use to escape from writing.
When we bought our house in Delray Beach it was a small, one-story, four-bedroom Mediterranean bungalow with a bathtub sized pool and a carport behind it. Over the 17 years we have owned it we have gradually added a second story to the main building, attached a neighboring house and – most important of all – converted the carport into a two-story structure. The first floor holds my 1991 Acura NSX. The second floor contains my writing studio.
Although not identical to Hemingway's studio, my writing room has all the essential elements. It too has the spiral staircase, the windows, and a French door that steps out to a porch that looks onto the garden. It is about the same size as Hemingway's, but a bathroom – a convenience I rationalized since I don't have a catwalk from the porch to our bedroom – takes up part of the space.
My desk, alas, is not round. It is built into a windowed alcove so that I can look up from my writing and down on to Vista del Mar where my neighbors often pass by, walking their dogs.
On either side of my desk I have bookshelves, as well as a refrigerator (which Hemingway did not have) to hold cold water and a coffee pot to keep the caffeine coming when I need it. Beside the French door my easel stands. The faint odor of oil paint mixed with yesterday's cigar smoke becomes the perfect aromatic environment once I've got the coffee brewing.
In lieu of the mounted fish and deer head a lion's head rug greets me every morning. It was part of a collection of animal heads and rugs I bought on discount from a wholesale furniture entrepreneur I know whose girlfriend at the time tried to stop him from selling them.
On the walls I have part of my collection of naïve and fetishist art – voodoo flags and fertility carvings and day-of-the-dead papier mache figures and so on – art that my wife refuses to allow in the main house.
On one bookshelf I have the 12 business books I have written under a pen name along with about a half-dozen translations of each. It makes an impressive little display of about 50 volumes, most of which I cannot read. On another bookshelf I have dozens of bound manuscripts of novels and screenplays I've written but never published along with a handful of literary magazines my stories have been published in and one lonely, recently published volume of poetry.
I also have a big, beautiful stone ashtray that I bought – I'm not kidding – while on a safari in Africa. I use that ashtray to light up a Cuban cigar now and then after I've spent a good morning doing good work.
It is, to me, a beautiful and useful room that supports my writing. The only thing I don't have is the damned catwalk. If I ever convince my wife of it, I will have that too. And then perhaps I'll have my best-selling novel.