By High Talk and Rumors
The Minotaur in His Labyrinth
Roberto Montenegro
1885 – 1968
Many of Roberto Montenegro's early paintings include an item of fantasy, but his later works exhibited total Surrealism, often with literary references. In this 1967 oil painting on canvas, El Minotauro en su Laberinto, the head of a red bull rests in the window of a theatrical setting of sturdy walls. The red moon shines full with an illuminating surround. The red cape and sword lie on the blood-red ground. A labyrinth icon displays on one wall.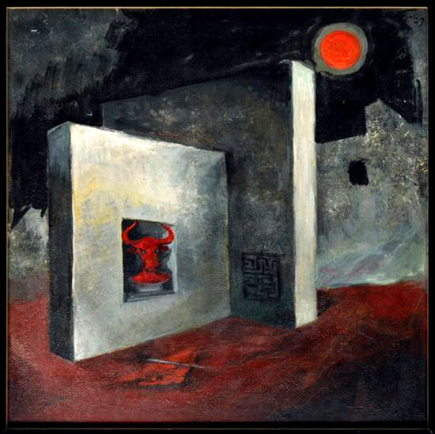 I like this work for its eerie atmosphere, the strong red coloring, and the repeated use of the square. The illuminated diagonal walls set the staging of this classical mythological scene. The violence of Mexico and of the Spanish bullfight read in the work. The human body is severed from the Minotaur, and only the bull's head is enthroned after the bloody battle, a tribute to the conquest and the irony of man's part or non-part in the play. The red-haloed moon indicates trouble to come.
Roberto Montenegro, Mexican muralist and contemporary of Diego Rivera, studied in Europe during the first part of the 20th century. He belonged to the 1922 syndicate group that eschewed aristocratic art and favored monumental public work. He later formed his own style of avant-guarde Surrealism. His studio contained rare and beautiful objects: Chinese portraits, Spanish chests, Persian rugs, and Mexican folk art.