By High Talk and Rumors
Morejos
David Alfaro Siqueiros
1896 – 1974
Rugged sculptured mountains struggle against a textured and scraped background and behind a flowing, mingling foreground in this small mixed-media work on paper by the Mexican muralist and revolutionary David Alfaro Siqueiros. Executed in 1967, the painting is a mixture of oil paints and pyroxylin, a substance related to guncotton, which dries with amazing speed.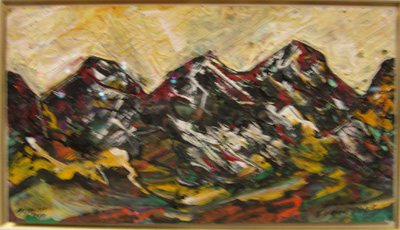 I like this painting for its dynamic presentation. It is bold in composition, striking in its coloring, and it exhibits a harsh rendering of a landscape often painted by Siqueiros. A closer look at the background shows strong diagonal gouges that contrast with the softer flat swirls of the foreground – like the conflicting ideologies of his revolutionary politics. Strong diagonals in the mountain range move the viewer across and then pull him back in with a waxy white agitation of application.
Creative and innovative, Siqueiros was always interested in new techniques and materials. He was also interested in politics. He was a student agitator, soldier, and spent years in prison for his activism. He studied in Europe and returned to his homeland in 1922 when he joined in the artistic revival in socialist Mexico. He helped form a syndicate of artists and wrote the manifesto that set forth their idealistic aims. Later, he produced many easel paintings, like Morejos, that countered the mural and public art manifesto of his youth.
Siqueiros is considered one the artistic masters of the 20th century, his life like a great mural of Mexico.