By High Talk and Rumors
The Street
Balthus
1908-2001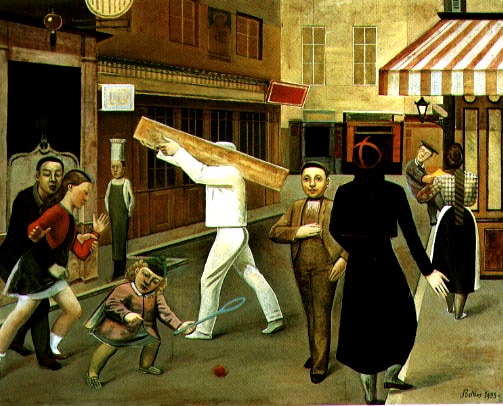 The first large (over 6 ft x 7 ft) oil on canvas by the French painter Count Balthasar Klossowski de Rola scandalized Paris, along with several other paintings in the artist's first solo show in 1934. The rendering of a crowded street with deep illusionist space is modern yet not modernist, and the dreamlike atmosphere is surreal but not surrealist. The figures are each caught in an isolated moment, oblivious to the sexual struggle occurring on the left side of the canvas. Balthus averts our own eyes with the diagonal lumber being carried in the center of the painting and with the hands and devices of the passersby.
My colleague, Mark Ford, likes figurative works.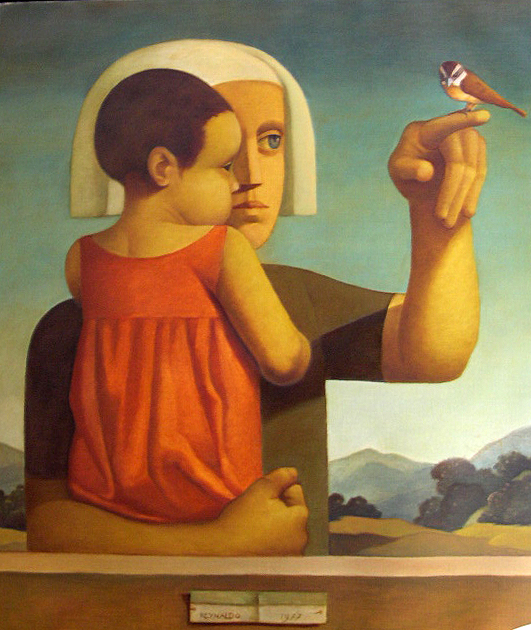 He admires Balthus's use of color and his brushworks, but most of all how he painted his human subjects. He explains: "There is something about the way they are drawn that makes them seem both suspended in space and frozen in time. It is as if Balthus used mannequins rather than human beings as his subjects. They are at once personal and universal. For some reason I can't explain, his paintings calm and soothe me."
Balthus, born in France to aristocratic Polish parents, was self-trained, a prodigy of his artistic mother and father and encouraged by their friends, Bonnard and Derain. Starting in the late 1930s, his work exhibited themes of adolescent girls awakening to sexual consciousness, usually in relaxed poses surrounded by powerful interiors. He would often spend years on a painting. He used muted, matte colorations to realistically portray the observed realities of his world. In the early 2000s, his paintings were selling for 3 to 6 million dollars. Drawings, watercolors, and charcoals (usually studies for his paintings) have recently sold for 6 figures.