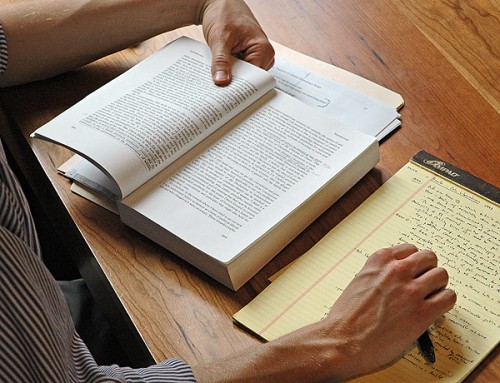 The most productive and, next to JK Rowling, richest writer in the world is James Patterson.
If you don't recognize the name, he is the author of Don't Blink and The Postcard Killers, as well as 48 other books that have been bestsellers in the past 10 years.
By almost any measure, Patterson is a hugely successful writer. But he doesn't have the attributes that one would typically expect: a brilliant mind, a passion for his work, etc.
Instead, he has a certain set of skills that he employs over and over again — and then leverages by hiring "apprentices" to do most of his work for him.
They do 80% of the writing, following his directions. Then Patterson edits their manuscripts for pace and tension — key elements in narrative fiction. By providing the outline and the editing, Patterson insures that his books have the Patterson "feel."
This is something that any established copywriter or author can do. In fact, I know quite a few Internet gurus who have junior writers ghostwriting their material. In some cases, these ghostwriters are good; in others, no. When they are not good, they degrade the reputation of the guru.
But what Patterson does is smarter than that. He gives his apprentices a byline. That makes the transaction more honest, and it provides the apprentice with a reward that is much greater than money.
Several of my clients — well-known financial and health publishers — could have bigger businesses if they could produce more information products and more marketing copy. But so far they have refused my suggestions to do so. They don't want to use apprentices, they say, because they don't believe anyone can write as well as they can. Another reason — one they don't admit — is that they don't want to share the credit.
These are both ego problems.
Patterson proves that you can maintain quality in your writing, continue to promote your name, and expand your production in multiples by using apprentices.
By hiring competent researchers and writers who are willing to work for him, Patterson puts out eight or more books a year. And his annual earnings are in the tens of millions.
Meanwhile, those researchers and writers have a chance to earn lots of money and, in some cases, become bestselling authors on their own simply by working as an apprentice to the master.
Peter de Jonge, for instance, is a former copywriter who spent several years on the Patterson assembly line before writing his first solo novel (Shadows Still Remain).
Andrew Gross, president of HEAD Ski and Tennis, co-wrote some of the Women's Murder Club Series with Patterson before signing his own 3-book deal with William Morrow in 2005.
Michael Ledwidge, a former doorman and wannabe cop, co-wrote the Michael Bennett series with Patterson. Ledwidge did write a few novels before his association with Patterson, but really hit the big time after co-authoring Step on a Crack in 2005.
The opportunity to become an apprentice for Patterson is limited — but there are hundreds or even thousands of chances right now to make a very nice six-figure income by helping professional writers do their jobs.
I'm talking about a brand-new profession in an industry that did not even exist before the Internet exploded about 10 years ago.
I'm talking about becoming an Internet Research Specialist in the information publishing industry.
And this is pretty exciting. Because it's a brand-new profession, the barriers to entering it are very small. And because information publishing is such a fast-growing industry, the potential rewards are great.
Let me give you an example.
Several years ago, Judith Strauss and I wrote and published a little book called Words That Work. Recently, I wanted to do an updated edition of the book, but Judith was not available to work on it. So I reached out to Katie Yeakle at American Writers & Artists Inc. (AWAI) to see if she could recommend someone who could do some basic research for me.
When I call Katie, I'm usually looking for a copywriter. (And finding a skillful copywriter, even when you have Katie Yeakle as a resource, is not easy.) But this time, I needed someone who knew how to track down information online and summarize it in concise sentences.
The person I found (with Katie's help) is a retired grant writer and sometime artist. The job I offered her was pretty straightforward. I'd send her lists of words that I wanted to cover, and she'd look at several dictionary definitions and craft one that was the simplest version of the various iterations.
The job pays $3,000, and she and I figured it would take her about 60 hours. That would give her $50 an hour. But after I had edited a dozen or so words and she understood both what I wanted in terms of a definition and also my style of writing, it looked like she was going to be able to get the job done in much less than 60 hours — making her compensation close to $75 an hour.
In addition, we became language buddies. We send each other interesting articles on language and enjoy talking about English grammar, usage, and style.
From this good experience, I decided to expand the book to something I'm calling One Thousand Words to Know Before You Die. My plan is to present one thousand words or terms that comprise the most important concepts in Western literature, from the time of Homer to the present.
It's a more ambitious book, to be sure, but it's also a book that's more interesting to write. My researcher's job is pretty much the same, but she's having more fun now in helping me select and cull words and in learning about the many artistic, cultural, political, and literary ideas that have shaped the way smart people think today.
Plus, she's got a bigger assignment now. So I upped her compensation from $3,000 to $10,000 — and I'm going to give her a percentage of sales as well.
Her compensation has gone up to about $100 an hour, and it could end up being two or three times that if the book sells well.
As I said, this is a new type of career — one that allows you to enjoy the challenge of being a professional writer (and some of the upside income potential) without having to master the fine art of fiction or persuasive writing.
Just think about it. Information publishers put out an endless stream of books, reports, essays, blogs, Web content, e-letters, e-magazines, surveys, research reports, scientific studies, marketing studies, religious writing, non-profit pamphlets, annual reviews, critiques — the list goes on and on.
And the demand is growing. According to Google, there are already more than 1 trillion unique Web pages. (It's estimated that Google indexes about 15 billion of those pages for search purposes.) And millions more are created daily.
In today's world of information publishing, there are tens of thousands of writers and publishers looking for people who can help them produce the many products they sell online. And if the demand for apprentice writers has increased tenfold since 2,000, then the demand for Internet Research Specialists has probably increased a thousand fold.
What does this mean to you?
If you're working at becoming a professional writer but haven't yet reached the level of compensation you want, this is the perfect opportunity to make great money along the way.
If you would love to live the life of a freelance writer but don't have the patience or talent for it, this is also a great opportunity to do that without having to master the craft of writing.
To get in now, on the ground floor, you will need to do two things:
Learn how to do quick and helpful research.
Learn how to find clients.
By the way, I wrote the first draft of this essay in just 90 minutes. Instead of spending hours on it, I simply inserted X's where I needed facts and figures to support my argument. Then I sent it to one of the AWAI-trained Internet Research Specialists on my list. That person filled in the blanks in less than a day, and earned about $75 an hour for his efforts.
It was good for him. It was good for me. And it can be very good for you.