By Ford Fine Art
Porto de Peche, Collioure, 1905
ANDRÉ DERAIN
French, 1880 – 1954
Oil on canvas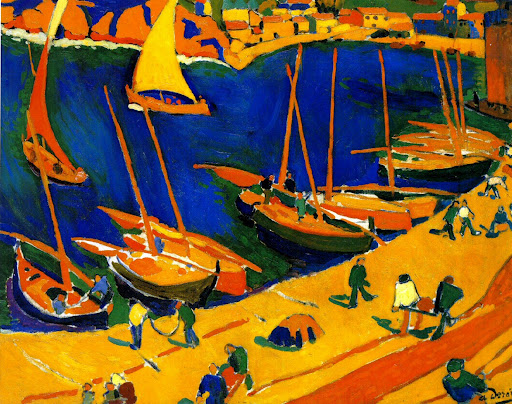 In 1905, in a Paris salon, a group of artists exhibited paintings so shocking – the colors strong, brash, and applied in a rough spontaneous way – that they were immediately labeled les fauves ("the wild beasts").
Fauvism was the first of the avant-garde movements to shake up the art world. It lasted briefly, from 1904-1908.  With their bright, emancipated use of color; minimally detailed forms; and positive subject matter, the Fauves created an atmosphere of inspiration.
Andre Derain was one of the major Fauves. His paintings are currently selling for 8 to 20 million dollars at auction.
The fishing boats of the French town of Collioure was a frequent subject for Derain and his fellow Fauves.  Asked why he likes this painting, in particular – Porto de Peche, Collioure – Mark Ford said, "What I like is the color and the composition. They are really amazing colors. They seem very natural and yet there is nothing particularly natural about them. They powerfully evoke a feeling – a good, warm feeling. And that comes not just from the colors but also from the composition. The oranges and yellows surrounding the multi shaded blue.
"I also like the simplicity of the figures. Derain was a very skillful craftsman. If you have ever seen some of his early paintings and drawings you know that he, like many modern innovators of his generation, was schooled in the techniques of representational art. I have always found that the best paintings of this period came from artists who had this solid academic foundation. They had a big advantage that later painters who weren't academically trained, lacked."
In comparison, the Chilean artist Arturo Pacheco Altamirano (1903-1978) has a contemporary, Latin American, Fauvist sensibility. His painting, En Pose para el Photografo, a 24" x 29" oil executed in 1966, is owned by Ford Fine Art. It is rich in color, heavily impasted, and evokes a joy-in-life emotional response.  The abstracted figures are outlined and the pure colors simplify the forms.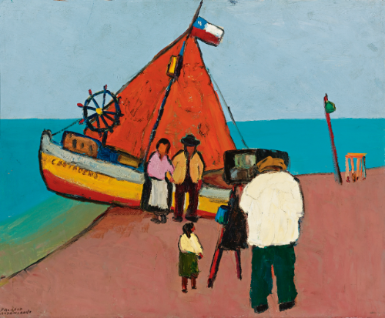 Altamirano studied architecture, but abandoned that career in order to paint.  He was designated as the cultural Ambassador for Chile in France (in 1952) and in London (in 1956).  He was nominated as an honorable member of the Arts, Science, and Letters Federation of the United Nations.  His individual exhibition in 1972 at the Museum of Contemporary Art in Madrid brought him international recognition.  His paintings are currently valued at up to $20,000.