Mesa Ocre con 3 Objetos
Alejandro Aróstegui (1935 – )
Mixed media & collage on canvas, 61" x 61″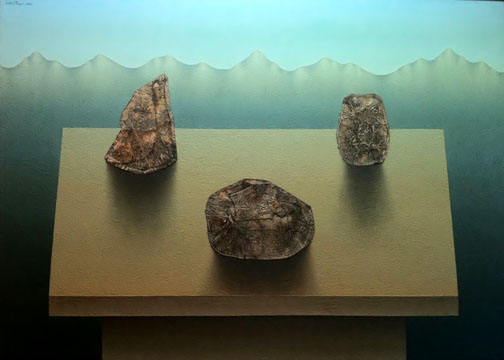 Alejandro Aróstegui is, without a doubt, one of the great political activists of all time in the Nicaraguan art world. For decades, he has used crushed cans and other "found" objects as the focus of his imagery. (They can be seen in many of his works in private and public collections.) He used trash in his art long before the trend for recycling existed — not as endorsement for "being green," but to express indignation.
Mark Ford and I consider Aróstegui to be the most important of the Nicaraguan artists.
He was instrumental in the formation of the Praxis group in Managua at the beginning of the modern art movement in Nicaragua, and was its leading visual artist. He studied architecture at the University of Tulane in New Orleans and art at the Ringling School of Art, as well as in Florence and Paris.
What Mark likes about this painting is the feeling it evokes — which is difficult to describe because it is complex and almost contradictory.
Serenity is one emotion. The other is some sort of aesthetic irritation. The serenity comes from the blue sky and mountains, conventional elements in landscape painting. Here, they are painted as flat surfaces, yet some sense of perspective is suggested by the shading — especially in the primary field, which presents both the mountains in the distance and the desert in the foreground. The aesthetic irritation comes from that contrasted with how soothing the colors are.
But that is only half the painting. The other half is a still life showing a legless table that seems to be floating in air. On top of the table are three objects that seem to be both flat and three-dimensional. They seem flat because they are flattened metal objects. At the same time, they have three-dimensional qualities because of their shape and color and also because they cast shadows on the table surface.
The contradictions give Aróstegui's paintings a complexity that is hard to ignore. On an academic level, you might say that he achieves that here by combining select elements of three very distinct genres: landscape, still life, and surrealism.
Aróstegui still paints in his pristine studio in Managua, Nicaragua. I like that he creates only a few paintings each year. They sell before the paint dries at still reasonable prices. His work is occasionally available on the secondary market.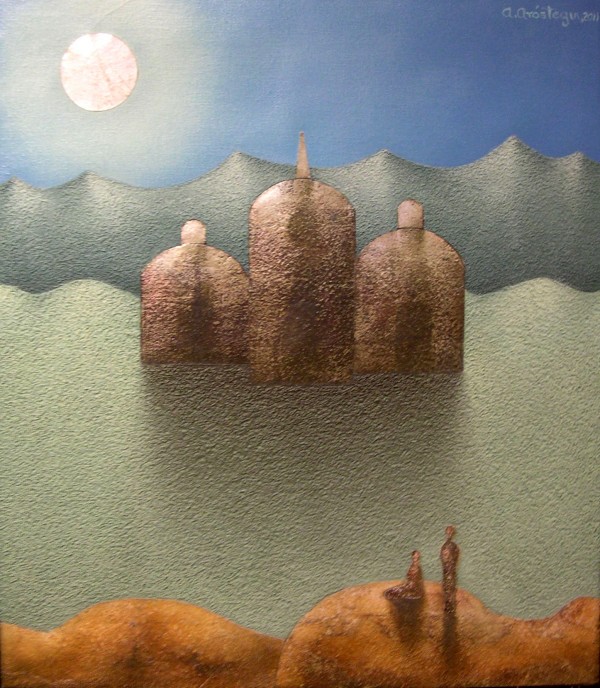 Las formas a la luz de la luna, 2011, 16" x 13"
Suzanne Snider