L'Arbeveratorio
by Gisberto Ceracchini (Italian 1899-1982)
Oil on canvas, 44″ x 65″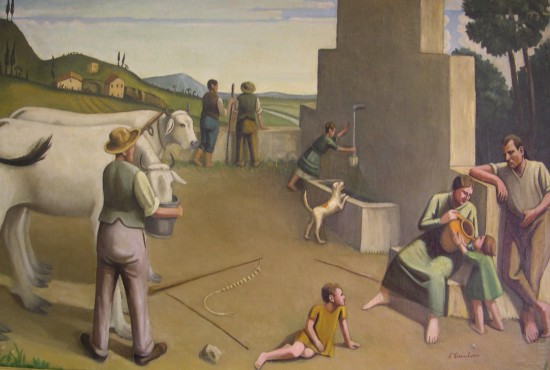 This is one of my favorite paintings. It hangs in the entry room to my art gallery. It is also one of the few paintings in my gallery that is not from Latin America.
I fell in love with Ceracchini when I saw several of his larger paintings in the MACRO (Museo d'Arte Contemporanea). Several years later I was walking by a small art gallery (a gallery of real art) on a little street not far from the Spanish steps when I saw this piece in the front window. After validating the provenance I bought it the next day.
There are so many things I like about this painting. I like the scene itself. I like the way the background is painted. But what I like best is something I'd like to call its' "sculptural effect". The figures look like they are statues, frozen in time. One of my favorite painters, Balthus, does the same thing with his figures and it is beautiful. I've included a smaller copy of his so you can see what I mean.