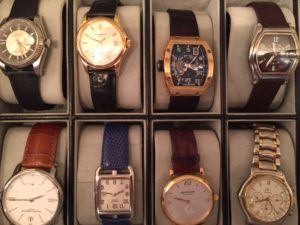 An Australian reader wants to know:
I know Mark has bought nice watches in the past, but has also said that a Casio can be just as good. If the subscriber is interested in luxury accessories to wear, a part of this report goes into "buying right" when it comes to watches: http://palmbeachgroup.com/accessories-your-key-to-personal-style/
 However, I've not seen him discuss luxury watches as an investment. Perhaps we can add something along those lines to our Collecting program down the road.
 In the meantime, I've CCed him in for his opinion…
 Mark, do you have an opinion about luxury watches as an investment or as collectors' items?
Watches can be viewed as tools or as jewelry or as financial investments.
Tools typically lose value the moment they are bought and lose value over time, as they get older. The technology of watches as tools has advanced to such a degree that if your interest is limited to functionality, it's hard to justify spending more than $30 – unless you feel the need to have a smart watch, in which case you'll be spending whatever the market demands.
I buy watches as jewelry and have eight that I like very much. Each has a distinctly different look so I can have a few seconds of fun each morning deciding which to wear. Like most jewelry, I recognize that my most of my watches are less valuable than the price I paid for them. But some of them are only slightly less valuable and one of them may have actually appreciated.
If I were an investor in watches I would do what I did (and recommend others do) in collecting art: buy only watches I believe I will love long-time and which, according to the research available, are most likely to appreciate in value.
There is an argument to be made for buying watches as investments.
The market for vintage watches has grown substantially over the past decade. According to one source, the major auction houses have seen their collectible watch sales double in the past ten years, from about $50 million to more than $100 million. Christie's in New York, for example, sold $56 million in 2006. This year they expect to sell more than $100 million worth.
"We are experiencing a renewed interest in grand complications," says Adrienne Hines, Christie's director of watches and accessories. "Collectors are not only purchasing showpieces, but watches they can wear every day, and most of the time, purchasing two or three at a time."
That said, I'm not going to invest into this trend.
Why? Because I have plenty of dough invested in art and rare books and don't need to put more money in collectibles and because I don't believe watches as a group are as likely to do as well as fine art and rare books.
But I would not dissuade someone from investing in watches. I would just suggest what I suggest to novice art collectors: Start slowly. Invest narrowly – in the brands that you know well. Buy the best quality examples of the most investment worthy watches you can afford. And gradually upgrade your collection as time passes.
Here are several more specific recommendations:
Rules for collecting watches
Rareness: As with any other investment, the most important consideration is supply and demand. Look for watches that had small productions and that, for whatever reason, are in limited supply today. There are some exceptions such as the Rolex Submariner, of which many were produced; yet they have appreciated over time.
Condition: As with any other tangible collectible, the condition it is in matters a great deal. Watches in pristine condition can be worth multiples – of two to five times – of the same watches in "ordinary" condition.
Complexity. All other things being equal, a watch with the highest number of complications will be the most likely to appreciate over time.
Quality: As with stocks, some watches are penny stocks, some are growth and some are blue chip. Blue chip stocks include Rolex, Patek and Cartier.
Price: It's no longer true with art collecting, but with watches you can still get a better deal by buying at trade shows or auctions, rather than commercial retailers.
Risk: Buying watches that are still in production is inherently risky because you don't know what the supply is likely to be and how many will be sold and kept and lost and valued later on. You can safely guess that the brands that traditionally hold their value (like Rolex) will likely do so in the future, but that's all you can reasonably do. But the difference in terms of price appreciation between one Rolex and another is very difficult to predict. If I were a watch collector, I'd invest only in watches that are no longer produced.
Heat: Many of the most valuable collectibles were unpopular when they were first produced, according to Ariel Adams, writing for A Blog to Watch. Don't make the mistake of buying today's hot watch and assuming it will be even hotter in the future. This rule applies even to watches with traditionally good ROIs.
If you want to know, my little watch collection includes one Rolex, one Cartier, one Patek Philippe, one Ebel, one Hermes, and one Richard Mille, one Baume and Mercier, and one Mount Blanc.
Some recommendations from others:
 Paul Burtons, a watch collector for 30 years, identified five watches he deems "most collectible watches of the 20th century."
Those are:
Cartier Tank Cintree
Introduced in 1921, the watch is distinctive looking with a curved case that hugs the wrist, and small screws on the sides of the case securing the case-back and the strap. A carbon sapphire is set in the winding crown.
It' said that only 50 of these were produced in each decade of the 20th century. At auction they might fetch $25,000 to $50,000 but platinum versions and those that are especially rare and well preserved can get a quarter of a million.
Vacheron Constantin Minute Repeater
 Introduced in 1942, this beautifully simple watch features minute repeaters that chime minutes and hours with hammers striking mini-gongs inside the case.
Burton's favorite is the  Vacheron Constantin's Minute Repeater (model reference No. 4261), produced from the 1940s through the 1950s. According to the auction house Antiquorum, just 36 examples were made.
They command $180,000 to $225,000. For white gold and platinum models, expect to pay between $200,000 and $350,000.
Patek Philippe Perpetual Calendar Chronograph
Introduced in 1951, it was produced only until 1986. It was one of the first chronographs to feature a perpetual calendar — a complicated mechanism indicating the correct day, date, and month that automatically adjusts for long and short months — with a chronograph, or stopwatch, that's useful for timing sporting events.
Most were made in yellow gold, and fetch between $300,000 and $400,000 at auction. The 10 or so made in pink gold easily go for over $1 million. Two examples were made in platinum — one is in Patek Philippe's museum; the other was sold at Christie's in November 2012 for over $3.6 million.
Rolex Daytona Cosmograph, "Paul Newman"
 Introduced in 1965, it has a multicolor, Art Deco-inspired dial. It's believed that dealers and collectors coined the watch's name after spotting one on the actor's wrist in the 1980s. Vintage Daytonas are especially suitable for everyday wear, thanks to their strong, water-resistant cases and robust movements, but their collectibility is driven entirely by the dial.
Authentic Paul Newman Daytonas, with pump chronograph pushers cost between $90,000 and $120,000. Later iterations, with screw-down chronograph pushers command from $150,000 to over $1 million for the exceptionally rare versions with white, black, and red accents.
Audemars Piguet Royal Oak, A-Series
 The Royal Oak (model reference No. 5402) was the world's first stainless-steel luxury sports watch with fully integrated bracelet.  It took three years for the first 800 examples to sell; 39 mm in diameter, the "Jumbo" was unusually large for its day. The first 2000 watches, marked with a letter A on their case-backs, are the most collectible. They feature a case crafted from two pieces of solid steel. The dials of the A-series are distinguished by a white gold AP logo at six o'clock. Inside ticks one of Switzerland's most prestigious and thinnest self-winding movements, graced by a taut, articulating bracelet and an ultrathin case.
Market prices for the A-series Royal Oaks range from $20,000 in average condition to $40,000 and up for mint examples.
10 Watches to Invest in Right Now (from Esquire)
$2,500 to $5,000
Tudor Heritage Black Bay
Breitling Navitimer 806
Omega Seamaster Professional
More than $5,000
Omega Spacemaster Z-33 RRP
Tag Heuer Silverstone RRP
Panerai Luminor Marina PAM00422
Jaeger-Lecoultre Deep Sea Chronograph HRP
Rolex Deepsea Se-Dweller 116660 RRP
More than $20,000
Rollex Sky-Dweller
Patek Philippe 5205