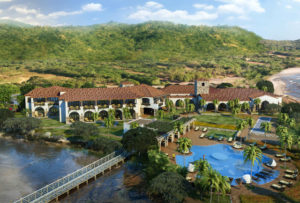 The development (which a few colleagues and I started on the west coast of Nicaragua 20 years ago) was cited by Forbes magazine as having one of the 100 best resort hotels in the world.
The article mentions my art gallery in the hotel, Galeria Rancho Santana  http://fordfineart.com/rancho_santana/index.php. It also mentions FunLimon http://funlimon.org, the community center that my family established. FunLimon provides the locals with a full sports program, as well as a trade school, literacy classes, and micro-loans. (We are keenly aware that most charitable endeavors are ineffective and/or dysfunctional, often creating dependency and feelings of entitlement. With FunLimon, we've worked hard to "do less harm than good" and avoid those unintended consequences.)
Take a look at Rancho Santana. It's a beautiful resort in an extraordinarily beautiful part of the world.
https://www.forbes.com/sites/ambergibson/2017/07/26/nicaraguas-accidental-resort-community-celebrates-20-years/#dc0758637909   ?