Frederic Remington   1861-1909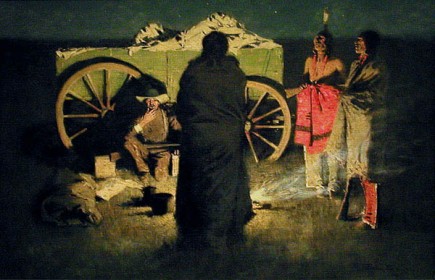 Many of Remington's best-known paintings depict scenes of action: hunting, fighting, warfare. The subject matter of Shotgun Hospitality is more subdued. We have three Indians standing around a seated cowboy who sits smoking in front of a campfire. They all seem relaxed, as if the Indians have stopped by for a visit. What I like about this painting is the arrangement, the circle around the campfire, the way the artist depicts the light emanating from the fire, the red of one Indian's robe, the green on the wagon, and the dusky forest in the background against a beautiful starlit sky.
I'm not a big fan of American Indian paintings. They are ubiquitous in Western resort cities from Aspen to Lake Tahoe. But this one is a great one. I like the exacting representation of the Indians, the tents and the dogs and the sagebrush and cactus against the romantic backdrop of a mountain waterfall with snowcapped mountains off in the distance.
Born in Ogdensburg, New York, Remington showed an affinity for art from an early age, and by the time he was 19 he had decided on a career in art. He attended the New York Art Students League and Yale Art School. Then he traveled to the West, where he worked as a cowboy and as a scout before returning home for lack of money. Thereafter, he visited Germany, Russia, and North Africa. Finally, upon his return to the States, he became a professional artist. He settled in New Rochelle to paint, sculpt, and illustrate books.