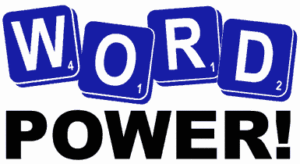 Whatever you do, wherever you go, you will always be judged on your speech. How you articulate your thoughts indicates not only your intelligence, but also your disposition and your breeding. Even in the U.S. – where informal diction and a colloquial prose style are practically de rigueur – the words you use matter.
In fact, when it comes to power, money, and prestige, few things matter more.
I'm not talking about pretentious palaver. There are few things more irritable than a blowhard that employs a convoluted syntax and polysyllabic vocabulary to impress. But being able to speak clearly and concisely by using the right words at the right times is an enormous advantage when it comes to making the right impression.
If you'd like to power up your speaking engine, it's easy to do. There are at least a dozen websites you can easily find on the Internet that will give you a word to learn every day. Some will email the word directly to your inbox.
A few examples:
* wordsmith.org/awad/
* dictionary.com/wordoftheday
* merriam-webster.com/word-of-the-day
* wordnik.com
* wordthink.com
* nytimes.com/column/learning-word-of-the-day
In addition to defining the word, most of them will show you the word in context (so you know how to use it), provide a link so you can hear how it is pronounced, tell you something about its origin, and sometimes illustrate it graphically or with a video to make learning it more fun.
Check out a few and find three that you like. Then once a day, when you have five minutes to yourself, choose one of the three words. Just one.
This past week, for example, I've learned the meaning of anodyne, pellucid, anoesis, garrote, glabrous, bloodless, and labile.
Anodyne was brand-new for me. The others I kind of knew, but not well enough to use.
Read the full entry. If you don't understand how it's normally used it's likely you'll forget it. Learning about its origin and reading a past usage of it by a well-known person is helpful.
Then write it down. (I keep mine in a Word file.)
After you've entered the new word, test yourself on the past three. Once a week, test yourself on the past seven. And once a month, test yourself on the previous month's entries.
Many of the word-a-day sites will have weekly or even daily quizzes of their own. If I have the time, I enjoy taking these quizzes. They are quick and fun and they give me "bonus" words – words that are not on my personal list.
The last but most effective thing I do is make an effort to use the new word in conversation that very day. This isn't easy. Sometimes I have to simply shove it in. (Which is not how you want to be using it when you really know it.) But I find that my long-term retention from the writing and testing practice might be about 40% to 50%, whereas if I use the word, even once, I'm 75% to 90% likely to remember it.
I know this may seem a bit much, but the results are immediate and significant. You'll see what I mean if you try it yourself.
6 Useful and Powerful Words You Can Learn This Week
Fuliginous: murky
Fugacious: fleeting
Peregrinate: to walk over
Paladin: A defender of a noble cause.
Variegated: spots of different color
Consuetude: Custom