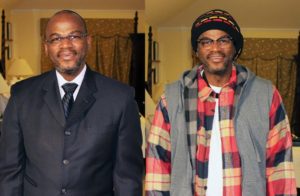 Once again we're trying to figure out why someone that seemed to have everything took his own life.
I'm talking about Lowell Hawthorne, 57, a Jamaican native that came to America, started from scratch, and built a fast-food empire. He shot himself in his office on Saturday, December 2.
Hawthorne learned how to bake from his father and opened his first Golden Crust Caribbean Bakery & Grill in the Bronx in 1989. To capitalize the start-up business, he borrowed money from his siblings and their spouses. The signature product, flaky dough patties filled with seasoned beef and chicken, remained a favorite as the company grew to 120 stores in 30 states.
Last week, the company opened its second Houston location. Hawthorne recorded his thoughts on this milestone on Facebook:
I was always in search of the next honest means to make a dollar. Like many transplanted Caribbean nationals, I struggled to work and raise a family. I can only thank God for everything I have achieved, and if my story here can inspire others to rise up and give it a go, then I would have succeeded in doing something meaningful.
As reported by the NYT, he grew up in St. Andrew, Jamaica, the sixth of 11 siblings born to Mavis and Ephraim Hawthorne. He came to the States in 1981, supported by his parents. After earning an AA degree from Bronx Community College, he graduated from Herbert H. Lehman College with a BA in business. He worked as an accountant for the NYC Police Department for nine years before opening his first store.
Despite its rapid growth, the company remained a family business with Hawthorne's wife acting as director of human services and their three sons active in upper management.
Steven Clarke, Hawthorne's nephew and the spokesman for Golden Krust, said he last saw his uncle at a family gathering. "We cut a cake for our aunt's birthday on Friday," he said. "He was himself," Mr. Clarke recalled.
Himself? Hmmm…
I've personally known a few super-successful men (they were all men) that took their own lives. In one or two cases, health was an issue. In another one or two, family problems were at play. In two cases, economic issues seemed to be at stake. But none of their suicides made sense to me. It was always a tragic loss. It was never a case of, "Okay. I understand."
At some level, I have to believe that no one that is not in extreme pain wants to die. So I'm guessing that despite all of Lowell Hawthorne's achievements, he must have been suffering from some sort of severe mental pain and anguish.
There's no way to know what the cause of that suffering could have been.
But I do know this. Financial success never brings peace of mind or happiness.