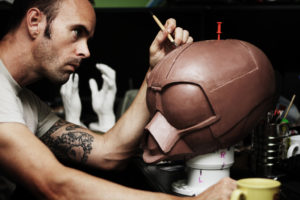 Profiting From Your Passion
Jerry's wallpaper business bored him.
It was profitable but he wasn't the least bit interested in wallpaper. He'd bought the business from his father-in-law after he and Veronica were married, and he made the business grow. But he didn't like manufacturing wallpaper. He didn't like selling it. He didn't even like talking about it.
So one day, after being in the business for about 20 years, he did something most people would be afraid to do: He sold it and started an entirely different business, doing something that he had a passion for.
You think you know where this essay is going, don't you? That life is short and you should not settle for just making money? That you should earn a living doing something you love?
And why shouldn't you expect that? Turning your passion into a profitable business is a very popular self-improvement theme these days.
Jerry's passion? It was flying airplanes. He'd dreamed of being a professional pilot since he was a kid. He even got his amateur flying license during college.
Then he got married. And had children. And then his father-in-law generously sold him the wallpaper business for a very good price.
The business made it possible for him to provide his family with a comfortable lifestyle – and have enough extra money to buy his own plane. A Cessna two-prop six-seater. It wasn't fancy. But it was his.
Weekdays were work, and work was drudgery. Weekends were for flying, and they were great.
But then Jerry's childhood dream of being a professional pilot resurfaced. And the more he thought about it, the more possible it seemed. Gradually, he formulated a plan to sell the wallpaper business, upgrade to a larger plane, and start a small commercial airline, flying goods to and from Central America.
Jerry was smart about the way he implemented his plan. (For one thing, he had clients lined up even before he bought the new plane.) So when I spoke to him a few months after he'd made the big move, I wasn't surprised to hear that it had been an instant success. He was flying more than ever. His customers were thrilled with his service. He was elated.
Fast-forward two years: Jerry was working harder than he'd ever worked at the wallpaper business. The airline was flourishing, but he wasn't yet making a profit. In the meantime, his savings were dwindling.
But that wasn't the worst part. The worst part was that he no longer enjoyed flying.
I understood what he meant.
When I first retired at 39, I bought a half-interest in an art gallery, believing it would be the perfect hobby-like, retirement occupation. I pictured myself sitting amidst beautiful paintings, reading interesting books, and chatting with art lovers about Karel Appel and Jules Pascin.
Instead, I was thrust into a high-pressure selling situation, one in which my partner expected me to press friends and former colleagues into buying art. After fewer than six months, I had to admit that this experiment in mixing my love of art with the desire to profit from it had failed. So I got out. It cost me a considerable sum of money, but it was worth it.
What I learned was that the job of running a business – even a "passion business" – is first and foremost about selling. And selling is hard and ceaseless work. It's also mandatory. If you are not continually finding new customers, your business is shrinking (i.e., dying) – whether your sales reports show it or not.
My fantasies about owning an art gallery were shattered by the obligation to make it profitable. And the many things I loved about collecting art were diminished by the business priorities.
For that (and several other reasons) I came out of retirement and went back to building publishing businesses. But this time around, I was determined to enjoy what I was doing.
So I decided to be more selective about the quality of our publications and less concerned about the numbers. (I'll tell you more about that in another essay.) I also focused on doing the sort of work I do well, leaving the rest to others.
As a result, yes, I do enjoy what I'm doing. But I enjoy it because the publishing business itself is complex and endlessly challenging… not because it's my passion.
I'm not saying it's impossible to turn your passion into a career. But there are trade-offs – usually financial trade-offs. And there is a chance (an off-chance) that you could practice your passion with great success.
My niece, Isabelle McCalla (@izzymccalla), for example, has been working full-time at her passion – acting – since graduating from the University of Michigan's fine arts program two or three years ago. After several lead roles in community theater and one with Disney, she landed the role of Jasmine in the Broadway production of Aladdin. She's getting kudos, making good money, and having a great time. But she's an exception – a one in a thousand exception. Keep that in mind.
BP, number-two son, is being more cautious about his career. As a father of one and another on the way, he works two jobs: He writes and arranges music as his passion-business and he manages a real estate portfolio for income.
If (as he hopes) his music business starts booming, he will focus on that full-time. If he then discovers that the fun of producing music professionally is being squashed by the stress of making the business grow, he could always go back to real estate and make music an avocation.
In building your career, you have at least three choices:
You can make your passion your number one goal, work 24/7 making a success of it, and hope that if you do beat the odds and succeed the passion will still be there.
You can opt to make money by doing whatever will give you the best chance of making the money you want and postpone your passion project for retirement.
You can do both at the same time, working longer and harder than your friends and colleagues, and see what happens.