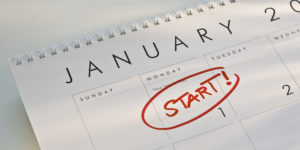 A favorite "idea" of rank-and-file self-improvement gurus is that New Year's resolutions are a waste of time. They cite statistics showing that most people fail to achieve all of their resolutions fully. That's no doubt true. But it doesn't invalidate the action. It merely reminds us that self-improvement is difficult.
Guess what? Everything worth doing is difficult.
Any day and every day is a great time (and the best time) to resolve to do more, have more, give more, love more, and live more. And January 1 is as good as any other day.
So if you have harbored the desire to make more money, learn a language, start a business, get fit, have more friends, get rid of files, lean to dance, be kinder or more patient or more caring or more giving — go ahead and resolve to do so.
Make a list, but don't make it too long or it may overwhelm you. Stick to the goals that will improve your life in significant ways. (These are usually important-but-not urgent goals.)
If you want a detailed plan for self-improvement, buy yourself (and maybe your spouse or a friend) a copy of The Pledge https://smile.amazon.com/Pledge-Your-Master-Plan-Abundant/dp/0470922400/ref=sr_1_3?ie=UTF8&qid=1514921930&sr=8-3&keywords=the+pledge+book.
If you don't have the energy to do that much, then do just one thing: Promise yourself that you will be happier in 2018 than you were in 2017 – even if you were immensely happy in 2017.
You can do it by making a commitment to…
* pay less attention to yourself and more attention to other people
* focus on opportunities, not problems
* listen first, talk later
* criticize only when your criticism is helpful
* never speak badly about anyone
* never complain about anything
* perform an act of kindness every day
This will have the most profound effect on you. Nothing else you do will bring you peace of mind. Money won't. Success won't. Fame won't.
Only by focusing your energies outside of yourself and toward the benefit of the people and things around you can you give yourself that wonderful feeling.
Make this resolution and write it down. Keep a copy with you, and refer to it often.
Do that and this will be the best year of your life. Guaranteed.
Happy New Year!