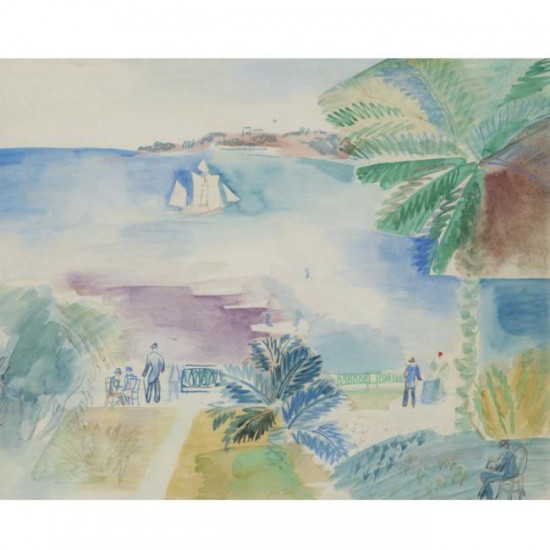 Baie de VilleFranche-sur-mer,
JEAN DUFY  1888 – 1964
Signed Jean Dufy (lower center)
Watercolor on paper, 19″ x 24″
I'm not a huge fan of Jean Dufy but I own three of his works. I'm hoping I can explain why I like this piece.
There is something in this watercolor that has always made a strong impression on me. It is difficult to describe. On one level, it is a impressionistic seascape. At tropical beach. A palm tree in the foreground. A sailboat in the middle ground. An outcropping of land in the distance. It looks very much like the view I have from my house in Nicaragua.
At some other level it seems very sad to me, almost painful. These suited vacationers, looking at the sailboat from behind a balustrade — they seem less enchanted than wistful. As if their imagined experience has been less than fulfilled. I have no idea whether Dufy had this thought in mind when he rendered this painting but I am still astonished that it can have this affect on me. It is something about the muted colors and the washed out white space. Of course I also imagine that it is Dufy himself in the foreground painting this sad scene.