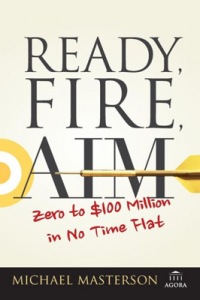 Ready, Fire, Aim
Whether you're thinking about starting a new business or growing an existing one, Ready, Fire, Aim has what you need to succeed in your entrepreneurial endeavors.
In it, self-made multimillionaire and bestselling author Masterson shares the knowledge he has gained from creating and expanding numerous businesses and outlines a focused strategy for guiding a small business through the four stages of entrepreneurial growth. Along the way, Masterson teaches you the different skills needed in order to excel in this dynamic environment.
---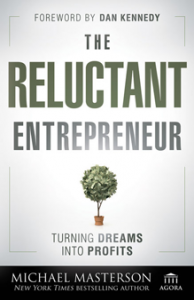 The Reluctant Entrepreneur
A comprehensive guide for entrepreneurs from one of the most successful business creators in recent years, The Reluctant Entrepreneur: Turning Dreams into Profits addresses the fears and misconceptions that many people have about starting their own businesses, walking prospective owners through the necessary decisions they need to make before even putting a business plan in place.
Presenting solid, reliable strategies based on author Michael Masterson's own successful practices, and debunking some common illusions entrepreneurs have about their businesses, the book is a vital resource for anyone looking to avoid the pitfalls that threaten fledgling companies.
Packed with insights from an entrepreneur who has launched and sold dozens of business, presented in a lively and conversational style
Some 600,000 new businesses are launched each year and with an uncertain economy, more and more people are looking for a stream of income separate from their 9 to 5 job
Filled with highly applicable advice that budding and professional entrepreneurs can start using immediately
Essential reading for small business owners and both first time and established entrepreneurs, The Reluctant Entrepreneur presents the smart strategies on starting and growing a small business that can make launching your own company a cinch.
---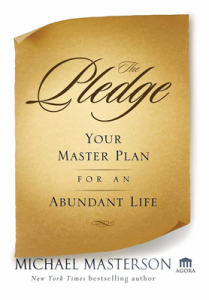 The Pledge
Successful people don't sit around waiting for everything to be "100%" right or to be "absolutely sure" they will succeed. They don't need absolute assurance, because they realize life doesn't provide any. To get what they want out of life, they set specific goals and put together a formal plan to achieve those goals, one step at a time. Successful people know that the cost of failure is modest compared to that of inaction. Failure means they are smarter the next time. Inaction means there is no next time-there's only a lifetime of regret.
In The Pledge: Your Master Plan for an Abundant Life, author Michael Masterson reveals how to become successful-and not just financially, but in every area of life. The book
Offers simple tips to making immediate changes and to establishing long-term goals
Details strategies on becoming more productive at the office and defeating depression
Explains why simplifying goals into four major ones makes them much easier to achieve
The Pledge teaches readers how to start and finish projects they have been dreaming about for years, boost confidence, strengthen skills, build wealth, and enjoy life.
Click to order this book today!
---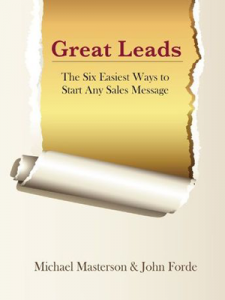 Great Leads
This is how Michael Masterson and John Forde begin their groundbreaking book Great Leads: The Six Easiest Ways to Start Any Sales Message.
But, the title doesn't tell the whole story. Yes, the book is about how you can ratchet up your copywriting by learning the six distinct types of leads and how to write and use them effectively.
But just as important, the book reveals three strategies few copywriters know or understand that you can start using immediately to:
Become a more effective copywriter
Write faster with improved results
Be more in demand
Earn more money
Here are just some of the secrets and strategies you'll learn in Great Leads …
How to decide exactly which kind of sales lead will work best with your specific customer. Knowing just this, you can almost always narrow it down to one or two of the six you'll find in this book. [Chapters 2 and 3]
A "super lead" that boosts response for almost any type of promotion. It's fun to write … and very easy. But, if you use it for the wrong type of promotion, your sale will simply fall flat. [Chapter 9]
Why "too much of a good thing" will destroy your sale. Companies like Coca Cola, Apple, and McDonald's understand the power of this secret … but don't want their competitors to know. [Chapter 1]
How to harness the success and power of the most direct lead. It's the easiest you can write. And, use it for the right type of prospect, and you'll build a lasting, six-figure income quickly. [Chapter 4]
How the right words will break through your prospect's apathy, overpower his sales resistance, and ratchet up his excitement … without him even realizing it. [Chapter 8]
These are just a few of the secrets, strategies, and insights you'll learn in Great Leads: The Six Easiest Ways to Start Any Sales Message.
Click to order this book today!
---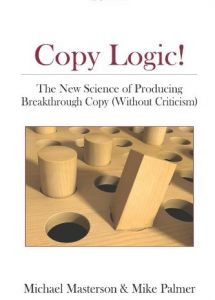 Copy Logic!
Copy Logic! The New Science of Producing Breakthrough Copy (Without Criticism), written by Michael Masterson and Mike Palmer, will help you write strong, well-balanced copy every single time.
It has the potential to transform you from the copywriter you are today to the copywriter you've always wanted to be.
And … if you're already earning a living as a copywriter (at any level), this e-book will show you how to write stronger copy, write it faster and submit your final package with much more confidence. In short: you'll be able to earn more for your writing … lots more.
Take a look at some of the secrets included in Copy Logic! …
The story behind Copy Logic and how it created a $300 million publishing empire.
How to shorten your learning curve by half. (Using Copy Logic, Mike Palmer has built an elite team of copywriters in record time. What's more many of them are earning six-figures because of it.)
How to turbo-charge your copy's selling power using Mike's simple CUB technique.
An easy-to-use, 4-point copy checklist that will have you writing strong, well-balanced copy every single time?
An innovative way to boost your productivity by avoiding criticism. (This creative alternative delivers results that are far superior to what you may be doing now.)
A step-by-step formula and examples of the exact system used by one of today's biggest direct mailers.
Of course, there's even more you'll uncover once you sit down with this easy-to-read e-book (just a suggestion – you may want to have your highlighter and notebook at your side because you'll have some real "A-ha" moments while reading).
Click to order this book today!
---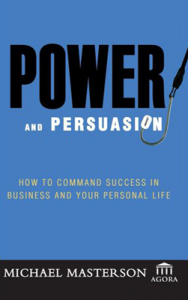 Power and Persuasion
It takes a rare combination of openness and resolution, toughness and compassion, cooperation and competition to become successful in life. In Power and Persuasion, Michael Masterson challenges many of today's popular notions about success. The leadership, personal growth, and management techniques set forth in Power and Persuasion are effective for anyone who is interested in getting on the fast track to success.
According to Masterson, publisher of the Early to Rise daily e-newsletter, truly successful people must be willing to do the hard thinking, make the tough decisions, and get the job done. They must seek the help of the best people available, without shirking their individual responsibility, to create a compelling vision of what can be and then sell that vision to their employees, their investors, and their customers. Knowing how persuade others that your ideas are worthy is the single most effective way to achieve power. And putting lots of power behind your best ideas, Masterson says, is the fastest and surest way to succeed in life.
The good news is that persuasion, like so many other important skills (communication, negotiation, and analytical thinking), can be learned. In Power and Persuasion, you'll discover how to develop great ideas and convince other people to value them.
Based on his own experience as a successful businessman and his observations of other, Power and Persuasion will help you identify the essential qualities needed to be successful in your business, social, and personal life. This powerful guide will also show you how to become a more influential person through example and by practicing the most effective techniques of persuasion.
Power and Persuasion breaks new ground in decoding what it takes to be successful by providing examples of leaders who…
Don't manipulate better performances out of people
Don't become therapists for their employees
Understand proper teamwork
Listen as well as talk
Don't try to control everything
Create a culture of accountability
Attach deadlines to their goals
Know when NOT to be competitive
Understand how to follow
Do NOT "Look out for Number One"
Filled with in-depth insight and expert advice, Power and Persuasion introduces a new way of understanding success along with powerful and proven techniques for accomplishing everything you want to in life.
---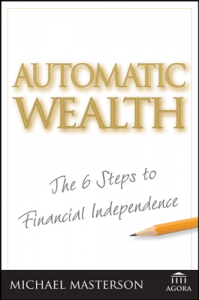 Automatic Wealth
If you're worried about getting burned by financial programs that promise you'll get rich quick—through unlikely stock tips or high-risk trading strategies—and don't have the patience to invest in a savings plan that takes thirty or forty years to take advantage of the "miracle of compound interest," then you've picked up the right book.
In Automatic Wealth, self-made millionaire Michael Masterson draws upon his own experience and that of experts in the fields of retirement, investing, and real estate to offer you a complete program on achieving financial independence. Organized around six key principles, Automatic Wealth will show you how to develop your wealth- building skills and habits and turn yourself into an "automatic wealth-builder."
The proven program detailed throughout this book—one which incorporates nothing but strategies that have personally worked for Masterson as well as the people he's mentored—is broken down into six easy steps:
Facing the Facts—Here you'll discover what wealth means to you and come to a realistic conclusion about what you need to do to put yourself on a path that will allow you to live well and retire comfortably.
Plan to Become Wealthy—Offers simple, straightforward advice that will prepare you for your journey.
Develop Wealthy Habits—Illustrates how the right mind-set can translate into more money.
Radically Increase Your Income—Provides the framework for making the money you want through real estate, investing, and other proven financial vehicles.
Get Richer While You Sleep—Reveals the best ways to create a steady stream of income that will automatically flow into your pocket.
Retire Early—Explores proven approaches to wealth building that will allow you to retire sooner than you might have expected and still live comfortably throughout your retirement years.
Automatic Wealth follows a well-conceived plan that focuses on building income and equity simultaneously. Filled with in-depth insight and practical advice, this unique guide offers specific steps—including how to develop wealth-building habits now and how to develop a three- to fifteen-year plan to reach millionaire status—that will help you live a more fulfilling financial life.
---
Automatic Wealth for Grads
Automatic Wealth for Grads is like getting your master's in financial independence—but without the midterms and textbooks. Filled with real-life examples and practical advice, this single book will teach you the secrets to getting wealthy sooner than you ever imagined . . . for many, even before the age of thirty.
Most grads discover pretty quickly that making a lot of money is not as easy as depicted in movies or on infomercials. Getting wealthy is a serious business that requires ambition, intelligent choices, and follow-through. The good news is that it doesn't matter whether you majored in English or economics, you can use these "money tested" techniques to make wealth-building not only probable but automatic. And when your cash flow balloons, you'll have more time, energy, and peace of mind to enjoy the things that really matter to you—whether it's traveling to Italy, playing the guitar, or just hanging out with friends and family.
In Automatic Wealth for Grads, self-made multimillionaire Michael Masterson becomes your personal mentor, drawing upon his own experiences and those of experts in the fields of investing, real estate, and business to offer you a complete program for achieving financial independence in record time. Organized around proven wealth-creating principles, he will show you how to quickly master the powerful moneymaking skills that will transform you into a dynamic, automatic wealth-builder, no matter what career path you choose.
The best part is that you don't need a fortune—or anything in the bank—to get started right now, whether it's finding a high-paying job, getting a huge raise, or even investing in real estate.
Click to order this book today!
---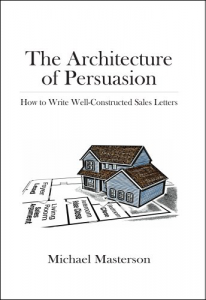 The Architecture of Persuasion
From the ancient Egyptians writing on papyrus to Internet advertisers today, writing powerful sales letters has been a critical skill in developing successful businesses.
In the Architecture of Persuasion, Michael Masterson helps you master this skill. And by using the extended metaphor of an Indiana Jones-style professor on a quest for romance, he makes it fun.
You follow the professor as he catches the eye of the object of his affections… figures out what to say and do to get her to fall in love with him… and, step by step, lays the groundwork for the establishment of a mutually beneficial, long-term relationship. In the process, you learn how to construct a powerful sales letter.
With Architecture of Persuasion, you'll:
Learn how to infuse your sales letter with massive power by using two little-known techniques. (This probably goes against everything you've heard… but Michael swears by it!)
Discover the three critical elements that every successful sales argument must have. (Fail to include even one of them, and all your hard work is headed for wastebasket city.)
Boost your sales 100% with the "false close" and the "liquidating bonus."
Click to order this book today.
---
Seven Years to Seven Figures: The Fast-Track Plan to Becoming a Millionaire

"Most popular books on money stress frugality and long-term savings," observes Michael Masterson, bestselling author of Automatic Wealth and Power and Persuasion. "But most people don't like to scrimp. And almost nobody is willing to wait forty years for compound interest to work its wonders."
And that's exactly why Masterson created Seven Years to Seven Figures: The Fast-Track Plan to Becoming a Millionaire. It's the perfect book on getting rich for baby boomers who can't wait long and younger people who just don't want to.
Why seven years? Admittedly, when Masterson began working on the concept of accelerated wealth, he thought it might be unrealistic. But when he looked at how long it actually took him to make each of the million-dollar fortunes he's earned, he realized that none of them took longer than seven years. And the same turned out to be true for many other millionaires he knew.
In Seven Years to Seven Figures, this self-made millionaire and renowned wealth coach reveals the steps everyone can take to accumulate seven-figure wealth within seven years—or less. In it you'll find real-life stories of men and women who built (and even exceeded) a seven-figure net worth within this time frame. Masterson describes their paths to success and explains, step by step, how you can mirror their wealth-building techniques, including:
How to cut your learning curve in half by finding a great mentor
How to safely transition from your current job to a six-figure-plus career
How to become invaluable to your company and turn your new role into equity
How to find the superstars who will help maximize your business's profitability
How to attract customers to your business . . . and keep them coming back for more
How to create multiple streams of income to double, even triple your net worth
How to drastically accelerate your returns by investing in real estate
How to add at least twenty new powerplayer contacts to your Rolodex . . . this year
If you're willing to get up earlier, work harder, and start a business, Seven Years to Seven Figures will give you the tools to increase your income, get the highest possible returns, save wisely—and secure your financial future faster than you may have dreamed.
Remember, some of the people profiled in this book built up a seven-figure net worth after leaving low paying jobs, after struggling with credit card debt, even after filing for bankruptcy. If they can go from zero to millions in seven years or less, you can too.
---

Changing the Channel
An all-encompassing guide to making the most from multi-channel marketing.
Written in a straightforward and accessible style, Changing the Channel offers you a detailed look at twelve of today's most important marketing channels-explaining how each one works individually as well as in conjunction with each other, leveraging the power of your message for explosive profits.
Page by page, you'll become familiar with a variety of approaches, including direct online marketing, social media, public relations, radio and television advertising, direct space ads, event marketing, telesales, telemarketing, joint ventures, affiliate marketing, and direct mail.
Discusses how to create successful marketing campaigns by using a mix of different marketing channels
Offers some smart ways to track customer buying habits with a database that covers all marketing channels
Helps you learn how to develop profitable relationships with your customers through frequent contact and by providing free quality content-not just sales pitches
With this book as your guide, you'll quickly discover how marketing across multiple channels can help develop quality customer relationships and improve the bottom line of your business.
Click to order this book today!
---
Confessions of a Self-Made Multimillionaire
422 Personal Success Secrets, Tricks, and Unconventional Techniques You'll Never Learn in Any Business School (Your Guide to Personal Success)
When you follow the advice in Michael Masterson's Confessions of a Self-Made Multimillionaire, it can make the difference…Between retiring with just enough to get by…or with a millionaire's portfolio…Between having a job you dread going to every day….or the job you've always dreamed about…Between going through the motions, keeping up with the Joneses, and wondering every day if this is all there is… or doing the things that would make your life rich and meaningful…
Between living the life you're living today…and living the life of those leaders and achievers you envy. Michael's ideas are far more useful and practical than most of what you see in the "self-help" or "business-advice" markets. His advice is powerful because it comes from his own experience…in the trenches, in the board room, and everywhere in between….
When you use the secrets in Confessions of a Self-Made Multimillionaire, for your business, your product, your service — or yourself — you will reap life-changing rewards.
Click here to order this book today.
---
How to Speak Intelligently About Everything That Matters
How to Speak Intelligently About Everything That Matters identifies and explains important ideas you're likely to encounter in conversations with powerful people, wealthy people, political people, social people, and—most of all—smart and interesting people.
Think of it as a "cheat sheet" to the most important ideas—ideas that can explain, elucidate, and enrich your life.
After reading the book, you will:
Feel confident discussing Adam Smith and his contribution to our current understanding of economics.
Be able to explain how the "dead parrot" speech in Monty Python's Flying Circus is a wonderful modern example of the ancient figure of speech known as commoratio.
Be able to distinguish the differences between high comedy, low comedy, and farce.
Understand the meaning of memento mori and know why you should care about it.
Explain why a young Thomas Kyd beheads rats in the movie Shakespeare in Love.
Know why you shouldn't be intimidated by textual criticism, exegesis, and hermeneutics.
Be familiar with famous people you'd previously never heard of, such as Alisa Zinov′yevna Rosenbaum (Ayn Rand) and François-Marie Arouet (Voltaire).
Know the difference between blank and free verse.
Understand how Steven King's Carrie is a modern example of the epistolary novel.
Click here to order this book today.
---
Living Rich: How To Live As Well As a Billionaire on a Middle Class Budget
"How much money do I really need in order to have everything I could possibly want?"
In this book, Mark Morgan Ford answers that question – and it's a lot less than you might think.
In Part I of the book, he explores many ways to live rich on a budget, how it is possible to enjoy the best things in life for a fraction of the money that billionaires spend on the same quality products and services.
Then, in Part II, he argues that, although luxurious things comprise a part of living rich, the bigger and more important part is how you spend your time. We are all given 24 hours a day. How we fill that time determines the richness of our experience. By the time you finish the book, you'll know exactly how to start living each of your 24 hours as richly and as freely as a billionaire.
---
Persuasion: The Subtle Art of Getting What You Want
What do you want from life?
Money? Fame? Respect?
Mastering the skill of persuasion will make all your ambitions more achievable. It will make you feel smarter and shrewder and more confident in almost every situation. You won't have all the answers, but you will have a good idea about how to get people to embrace the answers you believe in.
Persuasion: The Subtle Art of Getting What You Want will help you master the persuasive techniques you need.
It doesn't matter whether you are having a conversation at breakfast with a group of friends, responding to an email from your boss, chatting with a colleague on a break, writing a memo, talking to your banker about a loan, making a speech to get your candidate elected, drafting a sales letter or a letter to raise money for a favorite cause… what you learn in this book will give you the power to succeed.
---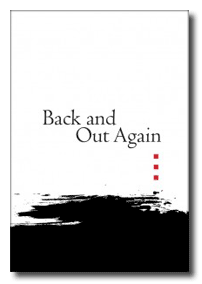 Back and Out Again
Back and Out Again is Mark Morgan Ford's first collection of poetry – the product of a three-year challenge to write a poem a day. With a willingness to put quantity above quality, he explored dozens of established and some novel approaches to rhyme, rhythm, and form.
The subjects ranged from mythology to politics to death to the complexities of human relationships. Of the roughly thousand poems written, these are 91 of his editor's picks.
---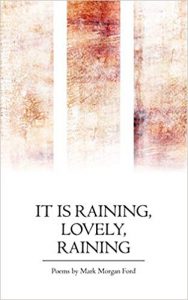 It Is Raining, Lovely, Raining
It Is Raining, Lovely, Raining is Mark Morgan Ford's second poetry collection. Here, the approach is introspective, with 86 crafted observations, memories, and reflections that find meaning in a moment… joy or sadness in a gesture… and humor where it's least expected.
---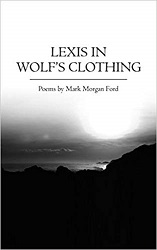 Lexis in Wolf's Clothing
"In poetry," Wallace Stevens once said, "you must love the words, the ideas and the images and rhythms with all your capacity to love anything at all." Mark Morgan Ford's love of everything about poetry is clearly evident in his own work – in his first two poetry collections and now in Lexis in Wolf's Clothing, his third.
---
Dreaming of Tigers
Mark Morgan Ford has written and published dozens of books – on business, entrepreneurship, wealth building, and personal productivity – based on what he has learned as a successful entrepreneur. He has also written a book on diction, a book on literary and philosophical ideas, a book on Central American art, four screenplays, and four collections of poetry. His longest standing interest, however, has been fiction, writing stories, sporadically but continuously, since he was a teenager. Dreaming of Tigers is his first short story collection.
---
Words That Work: 117 Ways to Speak More Powerfully
"Whatever you do, wherever you go, people will judge you by the way you speak."
– Michael Masterson
Having the right words to express your thoughts clearly is a skill that everyone needs. Wherever you are on your road to success – in business or in your personal life – this book will help you take giant steps forward.
*Please contact us for availability.
---
Wealth Planning for Freelancers: How to Parlay Your Freelance Income into a Multimillion-Dollar Retirement
Freelancing gives you a world of opportunity. You are free from the 9-to-5 grind, which leaves you plenty of time to spend with your family and friends – not to mention the potential to make an incredible amount of money.
So what are you going to do with all that money? In Wealth Planning for Freelancers, Mark Morgan Ford outlines a plan for making it work for you to secure your future.
*Please contact us for availability. 
---
Making the Most of Your Time
You are setting goals and creating task lists. But there's a problem. Those tasks rarely get done, pushing the achievement of your goals further and further away.
In Making the Most of Your Time, Mark Ford divulges…
• How to nail-down your long-term goals
• What 80% of people are doing wrong that causes them to fail
• A trick to quadrupling your productivity
• A simple way to add an extra two productive hours to your day
• And much more
*Please contact us for availability. 
---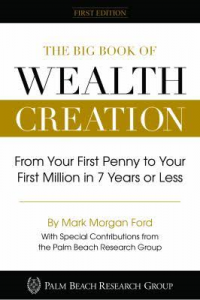 The Big Book of Wealth Creation: From Your First Penny to Your First Million in 7 Years or Less
Through a seven-year partnership with The Palm Beach Research Group, and over 40 years of personal experience, this book is a culmination of the lessons Mark Ford has learned as an employee, author, investor, and self-made millionaire.
And though it's basically about making money, it's also about making your life richer in other ways that matter more.
---
Central American Modernism
Introducing an important new book on modern art. Central American art is Latin American art. And as this book demonstrates, it is Latin American art at its greatest – worldly and sophisticated and yet also profoundly native.
Modern art in Central America shares much with the best of the modern art of Mexico and South America. But as this book – Central American Modernism / Modernismo en Centroamérica – makes clear, it has a quality that is in many cases distinctly identifiable as Central American art, and among the Central American masters, there are distinct qualities that make each of them uniquely valuable.
Central American Modernism / Modernismo en Centroamérica is a bi-lingual beau-livre. It not only tells the story of how Modernism came to each country, it demonstrates – with hundreds of photographs – the magnitude of the talent that Central America contributed to Modernism.
It took 8 years for Mark Morgan Ford and Suzanne Brooks Snider to produce this comprehensive introduction to Central American art – researching and interviewing historians, museum directors, artists and their families, collectors, and gallery owners, and then photographing works, many that have never before been seen by the public.
Click here to order this book today.
---