Uncategorized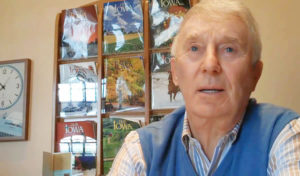 There are many ways to get rich as an entrepreneur. One way is to create just the right product at just the right time. A second way is to identify, and then cater to, a neglected niche market. A third way is to introduce a new and attractive marketing strategy.
Roy Reiman made his fortune by doing all three at the same time.
Reiman got his start by working as a freelance writer and dabbling in magazine publishing. In 1970, he noticed that two farming magazines had eliminated their soft "women's features" and he sensed an opportunity.
He devised a prototype for a magazine called Farm Wife News. To test the idea, he rented a mailing list of 400,000 farmers from an agricultural company. He sent a copy of the prototype to a tenth of the names, offering six issues for $5. The response was so great that he abandoned the next test and sent the sales package to the entire list.
A few years later, he was publishing 11 magazines aimed at the rural market and enjoying revenues of more than $300 million. His titles, with a circulation of roughly 16 million, included Country Woman, Ranch Living, and Taste of Home.
The magazine market in the USA has always been very large. But it has also been very competitive, with dozens of publications on every popular topic. So how did Reiman do it?
The most desired demographic has traditionally been young and urban. But rather than going after them, Reiman marketed to older, rural readers.
And rather than selling advertising, he decided to make his profits solely through subscription sales and renewals.
Click to continue… A Very Rich Entrepreneur You've Probably Never Heard About
Quotation I'm trying to believe: "You only live once but if you do it right, once is enough." – Mae West
Quip I intend to insert into the next lull in conversation: "The poets have been mysteriously silent on the subject of cheese." – Gilbert K. Chesterton
Arguing with K is like reading a software licensing agreement. In the end I ignore everything and click: I agree.
Best repartee (in response to a friend complaining to his wife about a headache: "Poor baby. It's a good thing women experience labor. The pain is so great that we can almost imagine what a man feels like when he has a cold."
News item that inspired me: Graydon Carter, editor of Vanity Fair for 25 years, retired recently. "I wanted to have a third act," he said.
Why Muhammad Ali was truly the greatest: Today we have Mayweather and McGregor hurling profanities at one another. This clip (which I'd never seen) reminded me of how verbally clever Muhammad Ali was. https://www.youtube.com/watch?v=qxB9M2u8T9Y
Lots of inquiries about what I'm going to do about the hurricane…how I'm going to handle it, etc.

Well, I'm feeling like Lt. Dan…remember this?