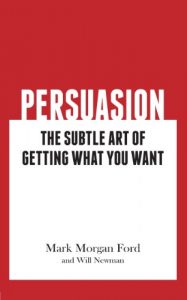 What do you want from life?
Money? Fame? Respect?
Mastering the skill of persuasion will make all your ambitions more achievable. It will make you feel smarter and shrewder and more confident in almost every situation. You won't have all the answers, but you will have a good idea about how to get people to embrace the answers you believe in.
Persuasion: The Subtle Art of Getting What You Want will help you master the persuasive techniques you need.
It doesn't matter whether you are having a conversation at breakfast with a group of friends, responding to an email from your boss, chatting with a colleague on a break, writing a memo, talking to your banker about a loan, making a speech to get your candidate elected, drafting a sales letter or a letter to raise money for a favorite cause… what you learn in this book will give you the power to succeed.