Stzender Art, 1913
George Grosz (German)
Pen & ink on paper, 11″ x 8 3/4″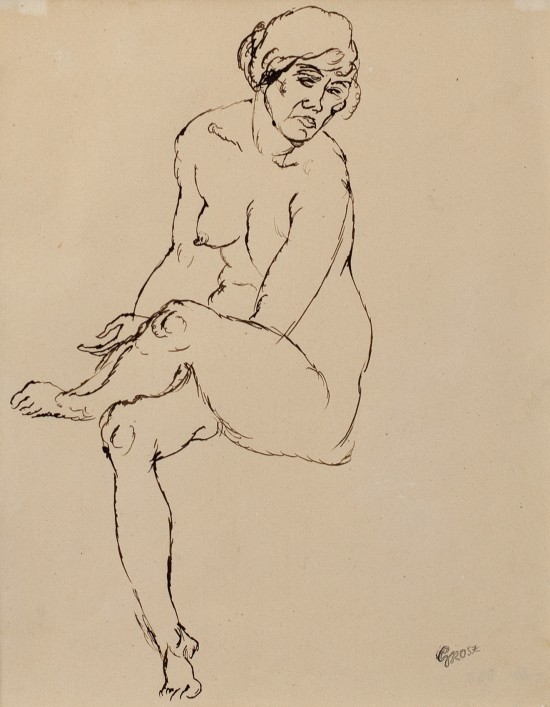 We have a room in our house that my wife uses to — well, I don't know what she uses it for but it's her room. So when it came time to put art on the walls I thought it might be nice to hang paintings of drowsing women. Most of them, as it turned out, are nude.
I swear I didn't notice that when I selected them.
This particular drawing by George Grosz has always pleased me. I'm not sure why. It's not a pretty drawing. The face is disturbing. But there is something about the posture that is true — as if the artist decided to render her at the end of a long posing session when she was about to get up and have a cigarette.
It is a pen and ink drawing and it doesn't appear to have been traced in pencil. I like drawings done that way because you can see the skill (or lack of skill) as the artist roughs out an idea.
A little bit about George Grosz and his style from Wikipedia:
In his drawings, usually in pen and ink which he sometimes developed further with watercolor, Grosz did much to create the image most have of Berlin and the Weimar Republic in the 1920s. Corpulent businessmen, wounded soldiers, prostitutes, sex crimes and orgies were his great subjects (for example, see Fit for Active Service). His draftsmanship was excellent although the works for which he is best known adopt a deliberately crude form of caricature. His oeuvre includes a few absurdist works, such as Remember Uncle August the Unhappy Inventor which has buttons sewn on it, and also includes a number of erotic artworks.
I bought it in 1992 for $2,000. It is worth about $8,000 today. Not a killing but a solid investment nonetheless.
When you can't afford to buy a major work by a major artist you might be tempted to buy nothing at all. And there are art collectors that would advise you not to. But I have always believed that if you pick a piece that is in some way intriguing or revealing you will be safe. And perhaps more importantly, you will enjoy it.