Marcelle Lender Dancing the Bolero in "Chilpéric"
57 1/8″ x 59″, oil on canvas
Henri Toulouse-Lautrec (1864-1901)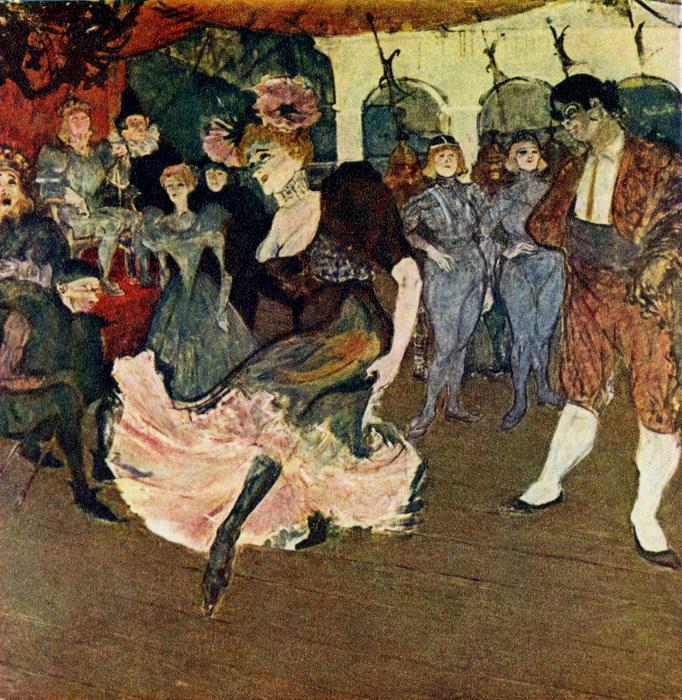 In the late 1800s, fin-de-siécle artist Henri Toulouse-Lautrec gives us a peek under the skirts of Parisian culture.  Born a French blue blood, Lautrec went into self-imposed exile from high society. The reason? Embarrassment over his deformed legs, the result of an accident in his youth.  His primary subjects were actors, acrobats, entertainers, and prostitutes. He portrayed them with masklike features, harsh lighting, and decadent colors in hectic environments.  Lautrec's most original contribution was the creation of a new type of art form: using lithography for the publicity poster.
Marcelle Lender Dancing the Bolero in "Chilperic" was painted in 1885/86.  Marcelle was the star of this play about a Spanish princess dancing in the court of the king, Chilperic. (In the painting, he is seated to her left.)  It was performed under newly installed harsh electric lights.  Lautrec visited the show 20 times to make his preliminary sketches.  He was in love with Marcelle and offered the finished painting to her. She refused it. It now hangs in the National Gallery of Art.
Mark Ford remarks, "There is something about Lautrec's work that reminds me of paintings by Francisco Toledo, the greatest living artist of Mexico.   (He was born in 1940 and is still working.) It is something about the odd choice of colors, the subjects, and the brushwork.
"You can't call these paintings beautiful in any conventional sense, but they have two qualities that make paintings valuable. They have a sort of instant appeal to the eye. Not pretty, but intriguing. You feel drawn into them. And then, when you look at them, you realize how complex they are. You wonder what possessed the painter. You have the sense that he is in some way disturbed by what he sees and manages to convey that feeling to you."
Untitled [Flying Fish], Mixed media on paper, 10 ⅝" x 10″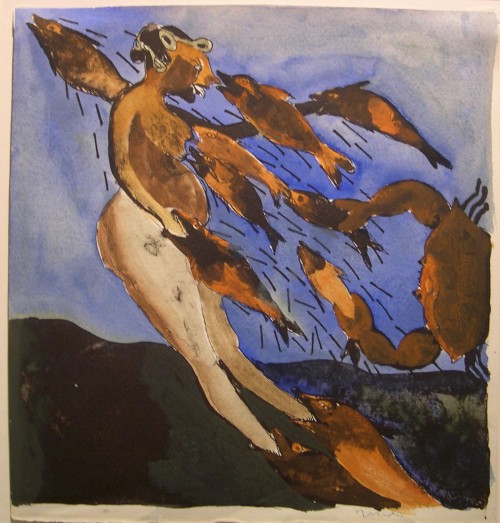 Like Lautrec, Toledo uses an abstracted line and unnatural colors, and he gives us a glimpse of the risque. Hybrid creatures, partly playful and sometimes monstrous, speak to us of the idiosyncrasies of life. His art shows the connection of both human beings and the animal world to the natural world.
Toledo's erotic and surreal watercolors, prints, assemblages, and drawings are quintessential examples of Mexican Magical Realism, an art form based on the folkloric traditions that he grew up with. He still lives in his hometown of Oaxaca, where he has established several libraries and schools for the arts.
Untitled [Cat], Mixed media on paper, 9 ¾ " x 13″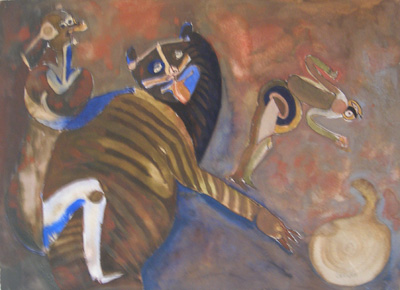 The paintings of Henri Toulouse-Lautrec sell for millions of dollars. Smaller works and graphics go for several hundred thousand dollars each.  Francisco Toledo's larger paintings sell for up to $500,000; smaller originals are available for about $20,000.