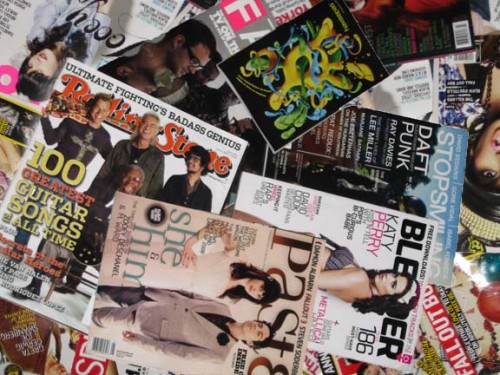 Here is an interesting article from Noisey about how music journalism is being affected by the mechanics of SEO optimization and the quest for clicks and page views.
If you're not familiar with the term, SEO stands for Search Engine Optimization, which Wikipedia defines as "the process of affecting the visibility of a website or a web page in a search engine's 'natural' or 'organic' search results,". In short, if you increase the visibility of a website, you increase the advertising revenue of that website.
According to the author, this has had a negative affect on the quality of writing:
Common amongst these types of posts is an abbreviated writing style that prefers lazily regurgitating details, without providing any personal input.

This type of content is a byproduct of blogs' emphasis on SEO tactics. Shorter pieces lacking substance are easier to produce and enable blogs to post content first, which in turn helps the post rank higher in Google searches.
The author also points out that music websites, like the highly influential Pitchfork, have abandoned their original ethos of covering obscure, alternative, and outsider music.
…the site now also writes about many mainstream artists. In an effort to reach larger demographics, blogs are creating link bait with highly searched band names or keyword phrases like "best new music." For every obscure band that isn't heavily searched, a website will produce double that amount of content around a highly searched term.
These are interesting theories.
Interesting…but dead wrong.
This is a story not about the effect of SEO (the writer is wrong that its inherent tendency is to dumb down). It is a story about a small publication that became big and profitable then, in an effort to stay big and profitable, began acting like a big publisher.
Mainstream publications have always focused on big names to attract readership. Doing anything else is stupid.