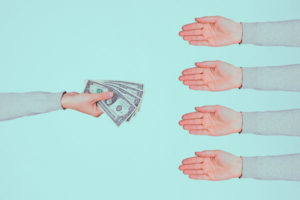 "Neither a borrower nor a lender be," Polonius tells his son Laertes in Hamlet. "For loan oft loses both itself and friend."
Shakespeare was speaking of personal loans – to friends and family members. Had he been a business writer he might have said: "Be a lender but only if thou likest the interest rate and thou gettest good collateral. And be a borrower only when thou haveth a good and safe investment to put it towards."
Maybe not in those words.
But let's talk about lending and borrowing to and from friends and family members. Is it a bad idea?
Borrowing can send a message of weakness: "I am not capable of managing my finances properly. I lack something you have."
Borrowing also introduces into personal relationships an element that shouldn't be there: financial dependency. The best personal relationships are those in which each party is strong and independent, both emotionally and financially.
Borrowing brings with it (or should) a level of stress. You have to manage not only to pay back the loan according to the terms provided, but also to restrain yourself from letting the financial issue cloud the relationship. This can be difficult.
Lending can be just as bad. It can make you think less of the borrower – especially if you don't get paid back or get paid back too slowly. And if the borrower is a friend or family member, that's a very significant cost.
Plus, if that were not risk enough, there is a very real chance that the borrower can end up resenting the transaction. And, instead of appreciating you for your kindness, feel offended by the obligation that came with it.
More than several times, I have gotten the distinct impression that friends (and even a family member or two) who owed me money eventually became angry about it.
So what do I do?