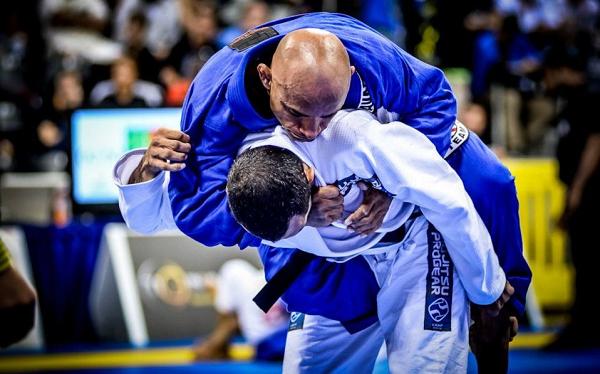 Renato, one of my Jiu Jitsu instructors, convinced me to get back into grappling in a kimono. "It will be hard at first," he told me. "But after a few months, when you go back to fighting without the gi, your game will be better."I know he's right. But when he worked with me on it yesterday, I felt like a white belt again. He was slapping arm bars, foot locks, and collar chokes at the rate of one per minute.
At the end of my hour-long class, I was ready to cry.
I've been practicing this sport for seven years now. But when I put on that kimono, I regressed. Big time. Renato, who competes at 145 pounds, was tossing me around like a rag doll. And I outweigh him by 50 pounds.
I know from experience, though, that if I keep on practicing, I'll get better. A month from now, after I've relearned my gi defenses and have regained a little confidence, I'll be
giving away fewer submissions. And one day, I'll give none.
I
 have no great natural talent for submission wrestling, but
 I am improving every day because I am willing to do what
 it takes. Making myself a better wrestler is no tougher than 
improving my Spanish language skills. I simply have to set
 myself specific goals, put in the time to practice, and keep
 at it until I succeed.
There
 is almost nothing you can't accomplish so long as you are
 willing to put in the time. This is something I've been
 saying for years – and now there is a substantial
 academic work that confirms my view.
K.
 Anders Ericsson, a professor of psychology at Florida State
 University, has studied the subject of "expert performance" pretty
 much his entire professional life. Thirty years ago, he performed
 an experiment in which he trained people to hear and repeat
 series of numbers. Untaught subjects were able to remember
 about seven digits in a row. After 20 hours of training,
 their memory had improved to the point where they could remember
 a 20-digit sequence. After 200 hours of training, they could
 remember a sequence of more than 80 numbers.
Later
 experiments led Ericsson to conclude that whatever
 innate capacity a person might have for remembering, that's
 nothing compared to how much he can learn by practice.
All
 of Ericsson's research and findings were put together
 in an 800-page book titled The
 Cambridge Handbook of Expertise and Expert Performance. The bottom line: "Talent
 is highly overrated."