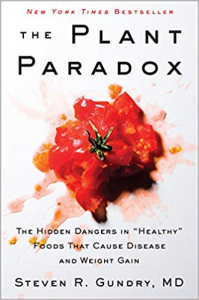 Human beings are, and always have been, omnivorous. They thrive on natural products – meats and plants.
Some meats – from animals that have been kept in pens and shot up with hormones and other chemicals – are not good for you. Most people know that. But some plants are also bad for human health.
That's what The Plant Paradox is about. Gundry explains that there are highly toxic plant-based proteins called lectins that are found "not only in grains like wheat but also in the 'gluten-free' foods most of us commonly regard as healthy, including many fruits, vegetables, nuts, beans, and conventional dairy products.
"These proteins, which are found in the seeds, grains, skins, rinds, and leaves of plants, are designed by nature to protect them from predators (including humans).
"Once ingested, they incite a kind of chemical warfare in our bodies, causing inflammatory reactions that can lead to weight gain and serious health conditions."
Worth a read.