Mother & Child 1977
Reynaldo Fonseca (b.1925, Brazil)
Oil on canvas, 29″ x 23″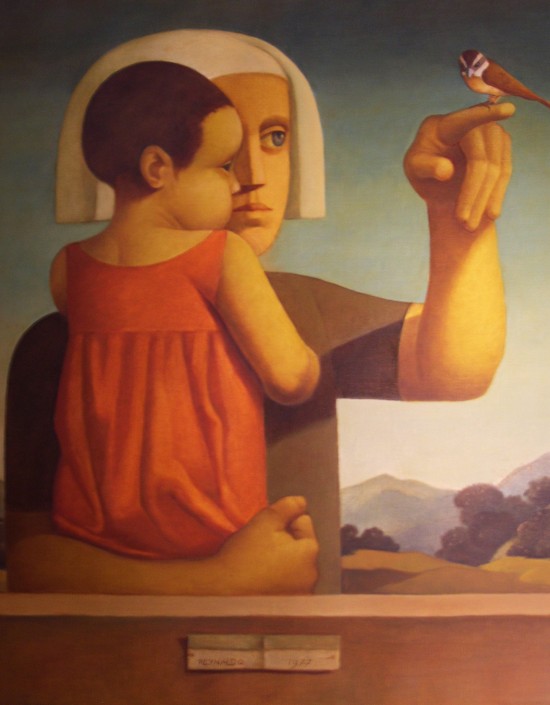 I may have as many as 1,000 works in my art collection. This is one of my favorites.
As you can see it's a painting of a mother and child. The mother holds the child in one arm, fist clenched and looks beyond a bird that is perched on her finger. The child seems to be looking shyly to the side. The different visual references give the portrait drama.
How did the bird get there?
What is she looking at?
What is her child looking at?
The figures themselves are statuesque rather than naturalistic. The figures stand in front of some sort of wall or wooden frame on which the artist has signed and dated the painting.
This gives the representation a modern, metta-painting sense. It is as if the artist is challenging you to decide where the painting begins and ends. The positioning of the figures in the foreground and the landscape in the background also remind me of the classicism of the Mona Lisa. I like these contrasts of the old and new.
Other painters I admire, such as Balthus and Ceracchini, compose their figures in a similar manner.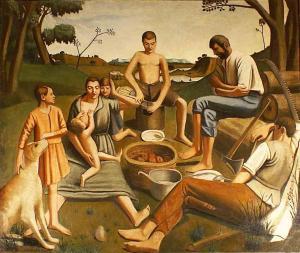 Beyond all that I like the muted colors, the orange garment on the child, the bland brown of her shirt and the grey blue in the background.