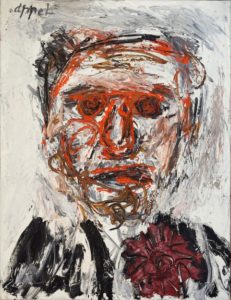 1962, oil on canvas, 45" X 35"
It looks like scribble scrabble, I know. And to be honest, it's not a favorite of mine. But it's been a good conversation piece (What is that?!) and a good investment, doubling in value since I bought it years ago.
The artist is Karel Appel, a Dutch painter and sculptor who cofounded a "school" of northern European expressionists called COBRA. (An acronym for Copenhagen, Brussels and Amsterdam)
Appel (you can pronounce it like apple in English since it means apple in Dutch) attended the Royal Academy of Fine Arts in Amsterdam from 1940 to 1943, moved to Paris in 1950 and then to New York City in the 1960s and then lived in Italy and Switzerland later.
The COBRA movement was, like Expressionism generally, a reaction against the "sterile academicism" of traditional art at the time. Its style was influenced by folk art, naïve art, l'art brut (Jean Dubuffet) but most importantly (in my view) children's art. In America artists doing this sort of thing were called action painters.
I have other works by Appel that I like a bit better. Like this one they are characterized by a thick layering of pigment, rushed, almost violent brushwork and a childlike figuration, but they are a bit less gloomy than this one. But those are later works, which don't fetch the prices that painting in the 1950s and 1960s get. Also this one is registered in the Archive of the Karel Appel foundation, which makes the provenance impeccable.